Donor and Sponsor Relations - FIN 2200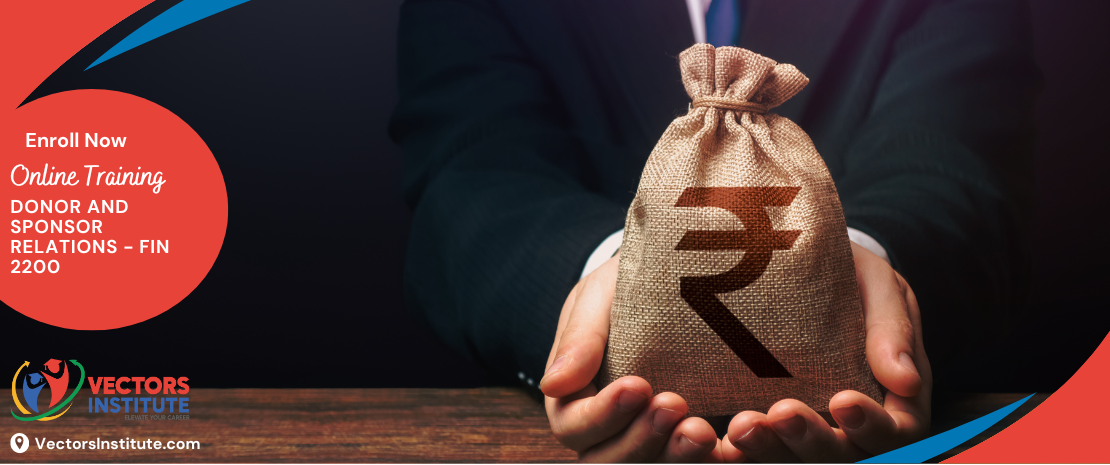 Donor and Sponsor Relations - FIN 2200
Training Overview:
Discover the art of fostering lasting relationships with donors and sponsors in the captivating realm of financial management through our comprehensive course, Donor and Sponsor Relations - FIN 2200. This dynamic training program is meticulously designed to equip you with the essential skills and insights required to cultivate strong connections that drive financial support and propel your organization's success.
Why Should You Attend:
Attending this invigorating course offers you the golden opportunity to unlock the secrets to transforming casual donors into passionate advocates and sponsors into steadfast partners. Elevate your understanding of donor psychology, sponsorship dynamics, and financial stewardship while immersing yourself in interactive discussions and real-world scenarios. By joining this course, you will acquire the tools to amplify your financial prowess and become a pivotal asset in building sustainable, thriving ventures.
Who Should Attend:
This course is tailor-made for financial professionals, non-profit leaders, fundraisers, and anyone enthusiastic about enhancing their expertise in cultivating financial support. Whether you're a seasoned financial manager or just embarking on a career in fundraising, this course will empower you with invaluable insights to forge resilient relationships and drive financial prosperity.
Training Objectives:
- Grasp the fundamental principles of donor psychology and sponsor motivations.
- Cultivate strategies to attract, engage, and retain donors and sponsors effectively.
- Develop skills to communicate your organization's mission and financial needs compellingly.
- Learn techniques to customize sponsorship packages and recognition opportunities.
- Explore ethical considerations and best practices for financial stewardship.
Program Outline:
1. Introduction to Donor and Sponsor Relations
- Understanding the Donor-Sponsor Ecosystem
- Importance of Effective Relationship Building
2. Donor Psychology and Motivations
- Psychological Triggers for Charitable Giving
- Tailoring Appeals to Donor Values
3. Attracting and Engaging Donors
- Crafting Impactful Fundraising Campaigns
- Utilizing Social Media and Digital Platforms
4. Sponsorship Dynamics and Customization
- Creating Compelling Sponsorship Packages
- Enhancing Sponsorship Recognition
5. Effective Communication in Financial Stewardship
- Storytelling for Financial Impact
- Transparency and Accountability Practice
6. Ethical Considerations and Best Practices
- Maintaining Donor and Sponsor Trust
- Navigating Potential Conflicts of Interest
Join us in this engaging course and embark on a journey to master the art of Donor and Sponsor Relations. Let's collectively enhance financial support for your initiatives while enjoying an enriching and interactive learning experience. Your path to financial success starts here!
Management
Duration of the Certificate Program: 2 hours training
Certification of Participants: Yes
Assessment: Yes
Attendance: Mandatory