Social Enterprise Operations Management - FIN 3220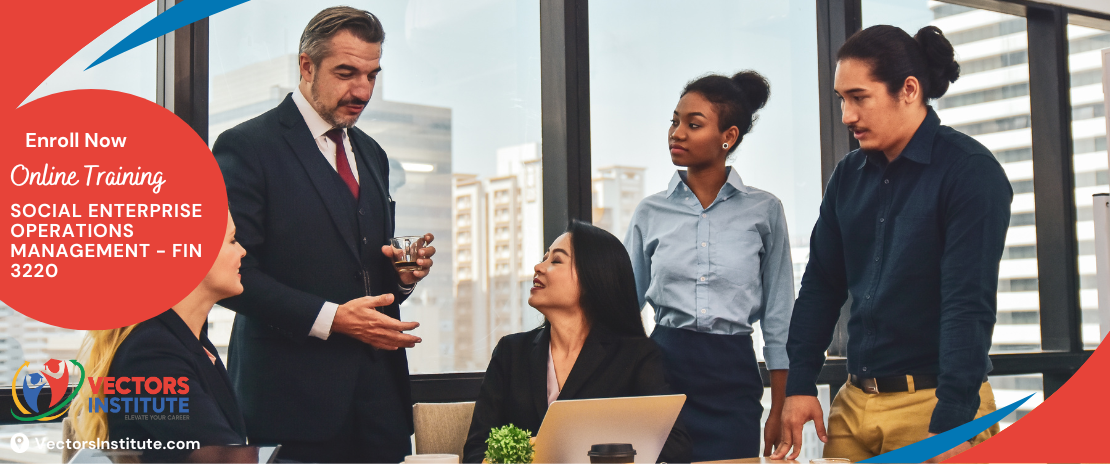 Social Enterprise Operations Management - FIN 3220
Training Overview:
Immerse yourself in the dynamic field of social enterprise operations management through our engaging and comprehensive training program. Explore the unique challenges and opportunities that arise when blending business acumen with social purpose, and discover how to streamline operations while driving meaningful change. This course offers a cheerful and supportive environment to master the skills necessary for successfully managing social enterprises.
Why should you attend:
Attending this course is your gateway to becoming a proficient operations manager in the world of social enterprises, where financial success goes hand in hand with creating a better world. Whether you're an aspiring social entrepreneur, nonprofit leader, business professional, or simply passionate about combining profit with purpose, this course equips you with the tools to navigate the complexities of operations management in a socially conscious context. Join us to embark on a rewarding journey that empowers you to make a lasting impact through efficient and impactful operations.
Who should attend:
This course is tailor-made for social entrepreneurs, nonprofit leaders, operations managers, business owners, and individuals seeking to enhance their expertise in managing social enterprises. If you're dedicated to maximizing both financial and social returns, optimizing operational efficiency, and contributing to positive change, this course is your pathway to success.
Training Objective:
By the end of this course, participants will be able to:
Understand the unique characteristics and challenges of social enterprise operations.

Apply operations management principles to drive efficiency and effectiveness.

Develop strategies for aligning business goals with social impact.

Optimize resource allocation to balance financial sustainability and social mission.

Implement sustainable supply chain and ethical sourcing practices.

Leverage technology and innovation for streamlined operations.

Measure and communicate the social and financial impact of operations.

Navigate ethical considerations and transparency in social enterprise operations.
Program Outline:
This comprehensive training program will cover the following key areas:
Introduction to Social Enterprise Operations Management: Concepts and Significance

Operations Management Principles for Social Enterprises

Balancing Profit and Purpose: Aligning Business Goals with Social Impact

Resource Allocation and Financial Sustainability in Social Enterprises

Sustainable Supply Chain Management and Ethical Sourcing

Leveraging Technology and Innovation for Efficient Operations

Measuring and Communicating Social and Financial Impact

Ethics, Transparency, and Accountability in Social Enterprise Operations

Case Studies and Best Practices in Social Enterprise Operations

Workshop: Developing Your Social Enterprise Operations Strategy
Management
Duration of the Certificate Program: 2 hours of training.
Certification of Participants: Yes
Assessment: Yes
Attendance: Mandatory