Stakeholder Management- COM 3300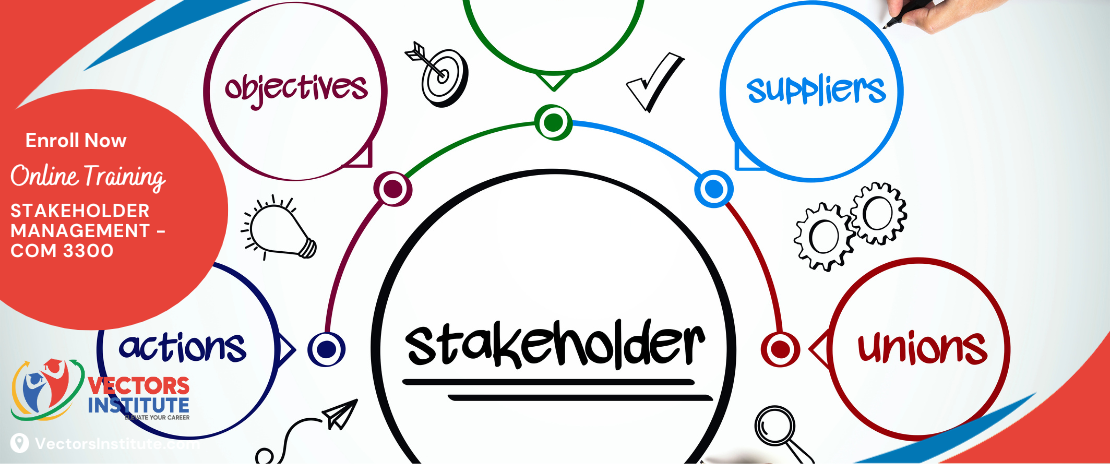 Stakeholder Management-COM 3300
Training Overview
This Stakeholder Management training program is designed to equip you with the essential skills and knowledge needed to effectively identify, engage, and manage stakeholders in projects and business endeavors. Throughout this comprehensive training, you will delve into key concepts, tools, and strategies to optimize stakeholder relationships and achieve project success. By the end of this program, you will have the expertise to navigate complex stakeholder landscapes and ensure that their needs and expectations are met.
Why Should You Attend
Stakeholder management is a critical aspect of project and business success. Failing to address the needs and expectations of key stakeholders can lead to project delays, budget overruns, and even failure. This training offers a unique opportunity to gain a deep understanding of stakeholder management best practices, learn from real-world examples, and participate in hands-on activities. Whether you are a project manager, business leader, or aspiring professional, this training will empower you to excel in stakeholder management, enhance your project outcomes, and boost your career prospects.
Who Should Attend
This training is ideal for professionals across various industries, including project managers, business leaders, entrepreneurs, and individuals involved in decision-making processes. Whether you are new to stakeholder management or seeking to enhance your existing skills, this program will benefit you. It is also valuable for team members who interact with stakeholders and want to contribute positively to project success. By attending, you will acquire the expertise needed to navigate the complex world of stakeholders effectively.
Training Objective
The primary objective of this training program is to provide participants with the knowledge and skills necessary to excel in stakeholder management. By the end of the training, you will be able to:
Define what constitutes a stakeholder and understand their significance in projects and business.

Identify stakeholders using various techniques and perform stakeholder mapping and analysis.

Gather stakeholder needs and expectations, prioritize them, and apply tools like the Power/Interest Grid.

Develop effective stakeholder engagement and communication plans.

Manage stakeholder influence, handle conflicts, and build and maintain trust.

Integrate stakeholders throughout project phases and adjust objectives based on their feedback.

Measure stakeholder engagement using key performance indicators (KPIs) and implement feedback mechanisms.

Analyze case studies and real-world examples to apply best practices in stakeholder management.

Engage in role-playing or group activities to practice stakeholder management skills.

Participate in a Q&A session to address queries, provide course feedback, and receive additional resources for further reading.
Program Outline
Introduction to Stakeholder Management (15 minutes)

Identifying Stakeholders (20 minutes)

Understanding Stakeholder Needs and Expectations (25 minutes)

Stakeholder Engagement and Communication (30 minutes)

Managing Stakeholder Influence and Expectations (30 minutes)

Stakeholder Integration in Project Phases (30 minutes)

Metrics and Tools for Evaluating Stakeholder Engagement (20 minutes)

Case Studies and Real-world Examples (20 minutes)

Role-Playing or Group Activity (20 minutes)

Q&A and Course Wrap-up (20 minutes)
Management
Duration of the Certificate Program: 4 hours of training
Certification of Participants: Yes
Assessment: Yes
Attendance: Mandatory
Format Online real-time workshop