The Future of Philanthropy Mastering AI for Nonprofit Success -MNG-NP-AI-231107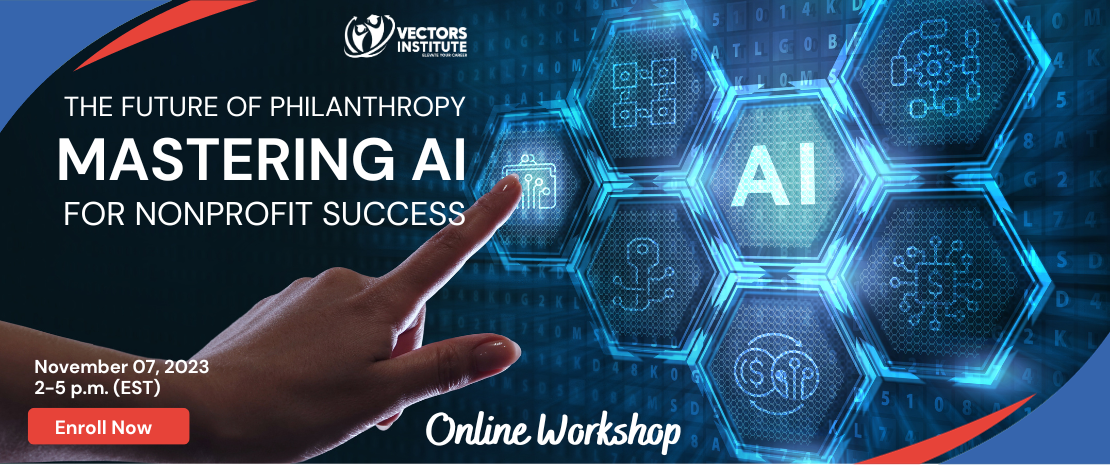 The Future of Philanthropy: Mastering AI for Nonprofit Success
Training Overview:
Join us for an immersive and insightful training session, "The Future of Philanthropy: Mastering AI for Nonprofit Success - NP-AI-231107," where you will gain a comprehensive understanding of how Artificial Intelligence (AI) can revolutionize the nonprofit sector. This training is tailored to equip nonprofit leaders with the knowledge and skills necessary to harness the power of AI effectively.
Why Should You Attend?
Stay Ahead of the Curve: In today's rapidly evolving world, staying up-to-date with cutting-edge technologies is essential. AI is transforming nonprofit operations, and this training will ensure you remain competitive and innovative.

Enhance Impact: Learn how AI can optimize your organization's processes, leading to greater efficiency and increased impact in achieving your mission.

Networking Opportunities: Connect with like-minded nonprofit leaders and experts in the field of AI, fostering collaboration and partnerships.

Customized Learning: Tailored specifically for nonprofit executives, this training provides practical insights and real-world examples relevant to your sector.
Who Should Attend:
This training is designed for nonprofit leaders, including:
Executive Directors/CEOs

Chief Financial Officers

Fundraising Directors

HR Leaders

Presidents

Founders
If you are passionate about leveraging AI to drive positive change in your nonprofit organization, this training is for you.
Training Objective:
Upon completing this training, you will:
Master AI Fundamentals: Gain a solid understanding of AI basics, types, and key algorithms, allowing you to make informed decisions about AI implementation.

Explore AI Applications: Discover industry-specific use cases and real-world case studies to identify how AI can be productively employed in your nonprofit's operations.

Understand Data and AI: Learn about the critical role of data in AI, data preprocessing, and ethical considerations to ensure responsible AI usage.

Familiarize Yourself with AI Tools: Become proficient in AI frameworks, platforms, and programming languages, enabling you to leverage AI tools effectively.

Embark on a Journey of Continuous Learning: Know where and how to access online courses, join networks, and attend events to keep your AI knowledge up-to-date for ongoing nonprofit success.
Management




Duration of the Certificate Program: 07 November 2023, 2-5 PM (EST)




Certification of Participants: Yes




Assessment: Yes




Attendance: Mandatory




Format Online real-time workshop